Posts by david
As we all scratch our heads over the state of things in the music business, the one absolute gift I feel I've been given is a ringside seat to  greatness. This past year I've had the pleasure to occupy the best spot in the house and listen to Greg Leisz, Bill Frissell, Stuart Matthis, Tony Joe White, Val McCallum, Butch Norton, Davey Faragher, Pete Thomas, David Sutton, Ian...
Read More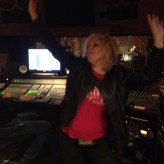 In the final stretch of mixing…someone looks happy!
Read More
Had a fantastic time recording The Section: Eric Gorfain, Daphne Chen, Lauren Chipman and Richard Dodd along with three other great musicians, Stephanie O'Keefe and Danielle Ondarza on french horns and pianist David Palmer.  It was a great night!
Read More
It's been a busy year with very interesting projects. I've been privileged to do some remixes, movie prerecords and some really great records.  Most recently I got to reunite with Marc Orrell and do some really cool tunes. Marc was a member of the Dropkicks and our last collaboration was the Warrior Code record that had "Shipping Up To Boston" on it. Marc's new band...
Read More
Hey All, I was reluctant to make this post in light of the tragedy in Connecticut . It seemed like discussing studio news would be in extremely bad taste. After further consideration though,  I thought bringing attention to an example of love, kindness and compassion that's happened recently might provide a little light in the darkness. On Tuesday and Wednesday (Dec 11 & 12), Lucinda...
Read More
After finding a great spot with super acoustics and fantastic isolation, the next move had to be pretty well thought out. I had at this point gotten together some pretty cool gear, a nice Neve side car console, some pretty nifty preamps, equalizers, compressors and a nice complement of microphones, it seemed like the next step was to integrate it all and make it work in the new music...
Read More